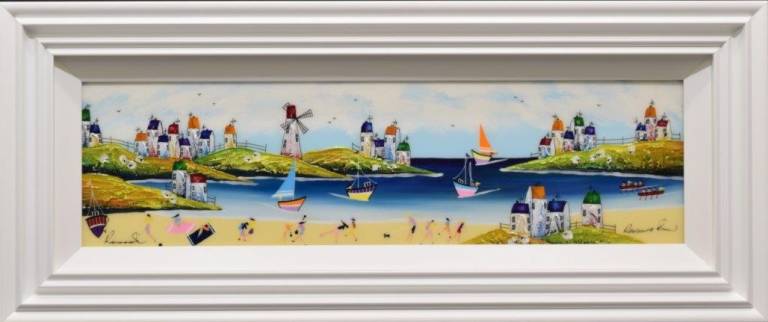 Born in this Southern African country in 1962, Rozanne's early work was inspired by Zimbabwe's jaw-dropping natural beauty and timeless culture. During this period, Zimbabwe's burgeoning tourist industry began to expose her work to an international audience where she found particular popularity in the USA and UK. Indeed, when Zimbabwe left the Commonwealth in 2002, Rozanne chose to settle in England and merge the drama and impact of the African landscape with the mystery and atmosphere of the Dorset coast.
Her celebrated depictions of wild-flowers, cosy sheep-farming villages, dreamy coastlines and quaint little fishing harbours are quintessentially Dorset: the county she calls home. But the unprecedented use of luminous colour and the trademark resin and metallic embellishments come from a very different influence – her native Zimbabwe.
The irrepressible Rozanne Bell is one of the UK's most loved artists: witty, convivial with a distinctive style to match her sunny disposition.
Ever since I first picked up a paint brush with my mother as a little girl, the compulsion to paint has dominated my life. I know that the extraordinary colours, light and contrasts of Zimbabwe where I grew up are to blame. Art became and has ever been my friend, supporting my children and me throughout.