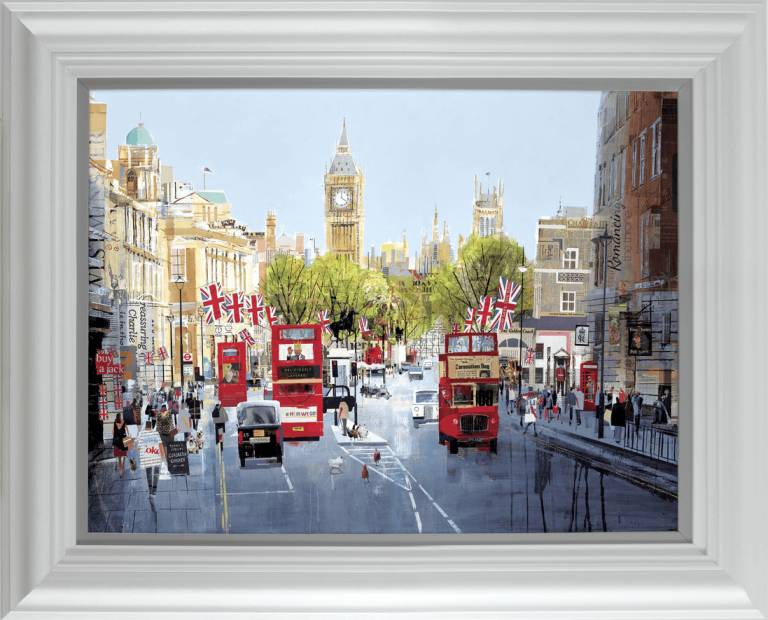 In 2004, Tom and his wife took a holiday in the South of France and visited a beautiful town called Uzès. Tom was mesmerised by the light, colour and texture of the place. Bright awnings and parasols amongst weathered stone buildings, with shuttered facades and crumbling masonry. And 'les publicitésanciennes' - huge, faded adverts from bygone days that used to be hand painted onto the sides of buildings. Tom says: "Maybe this is where my attraction to having text within a painting began. Every angle of this town was an artist's delight. With photos galore, I set about recreating what I'd experienced as soon as I returned. The resulting artwork proved successful with local galleries and ultimately paved the way for my love of capturing cityscapes. Tom Butler the artist was born here!"
Tom's technique and style have evolved enormously over the years. He moved into using mixed media early on, and the collage style is now an integral part of his work. It adds intrigue, resonance and (recently) a touch of humour. He finds it an exciting way of working and loves being in the studio at the end of his Berkshire garden at every opportunity.
Tom's subject matter has varied over the years, but recently he has particularly enjoyed observing London with all its old fashioned charm and bustle. He says, "Nothing shouts London at you more loudly then a Red Bus in Trafalgar Square or the bright lights of Piccadilly Circus. It's a place you could never tire of returning to." Other cities that appeal from an artistic perspective include Paris where his wife is from), New York, Havana and of course Venice. He loves to travel and discover new places and I relish the prospect of doing this more and more as his paintings evolve.
Educated in art to degree level his knowledge and love of art is wide ranging. "I really appreciate the use of colour and light by some of the Impressionist painters, namely Monet and Cezanne. I have studied the work of Singer Sargent, Kandinsky and the 1930's poster artist and typographer, A.M Cassandre. During my degree I was inspired by the talents of Norman Rockwell and Cartoonist Ralph More recently I have been struck by the work of contemporary artists such as Luke Martineau, Mike Bernard, and Andrew Hood to name but a few. Anybody that can capture the essence of a subject matter with expression and vigour is an inspiration."